Donald Ellis Williamson, MD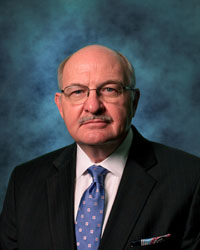 Dr. Don Williamson began his career in the Alabama Department of Public Health in 1986 and was appointed State Health Officer in 1992. Dr. Williamson has overseen the quality and safety of Alabama's healthcare system, food safety and other health services that impact all Alabamians. During his 23 years as Alabama's public health leader, he has supervised Alabama's responses to medical threats like influenza epidemics, natural disasters like hurricane Katrina, man-made disasters like the BP oil spill as well as evolving threats such as bioterrorism. He successfully managed a massive state and federal budget, attracted and retained a highly qualified staff. At the national level Dr. Williamson was elected President of the Association of State and Territorial Health Officials. Dr. Williamson's public service has extended beyond the Alabama Department of Public Health.
In 2014, he organized and led both the Alabama Medicaid Advisory Commission and the Alabama Health Care Improvement Task Force to help Alabama respond to the Affordable Care Act and many other national policy changes that impact Alabama's health care systems. His accomplishments were acknowledged by the American Medical Association when he was awarded the Nathan Davis Award that identifies one leader at the national level for state healthcare leadership. Following his retirement in 2016, Dr. Williamson was chosen to lead the Alabama Hospital Association as President and CEO.