Leon Columbus Hamrick, Sr., MD*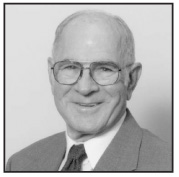 For over half a century, Dr. Leon Hamrick has tirelessly served the medical profession as well as his patients, community, and church. Prior to obtaining his medical degree, Dr. Hamrick served in the Navy as a Pharmacist Mate in the European and Pacific Theatres. After receiving a medical degree from Emory University, Dr. Hamrick began his residency and fifty years of distinguished service to the Lloyd Noland healthcare tradition. For the last 34 years, Dr. Hamrick has served as Chairman of the Lloyd Noland Foundation, known today as a leading provider of services to the elderly and chronically ill. Dr. Hamrick's work to improve his profession is highly respected by colleagues.
His past leadership as Chairman of the Board of Censures, Chairman of the State Committee of Public Health, Chairman of the Medical Licensure Commission, and Founding Director of Mutual Assurance, displays a dedication to the highest medical standards. Because of a life of exemplary service, Dr. Hamrick is being honored today.