Clifton K. Meador, MD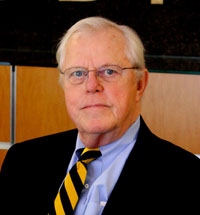 Born in Selma, Al and raised in Greenville, AL Dr. Clifton Meador graduated from medical school in 1955, and began a residency at Columbia Presbyterian Hospital in New York. After two years in the U.S. Army Medical Corp, he returned to Vanderbilt to complete his residency and fellowship in Endocrinology. Recruited to the now renowned Endocrinology Division of the Medical College of Alabama in 1962, he advanced from Instructor to Professor. While Dean at UAB, he conceived and instituted the Medical Information System via Telephone (MIST) line. Initially a free consulting service for Alabama physicians, it is now a nationwide system handling over 105,000 call per year ranging from helpful hints to critical care consultations, all with a university specialists. Continuously involved in teaching, research, administration and authoring numerous papers and fourteen books, Dr. Meador still devoted one day per week to seeing complex patients referred by other physicians.
Dr. Meador designed the current configuration of the State Committee of Public Health. His plan, adopted in 1973, created four important advisory councils with the chairperson of each council serving as a state committee member. Dr. Meador now resides in Nashville, TN and serves as Professor Emeritus of Medicine at his alma mater, Vanderbilt School of Medicine. Dr. Meador is the father of seven children, seven grandchildren and two great grandchildren.