Ralph Clayton McWhorter, DCom (hon), FACHE*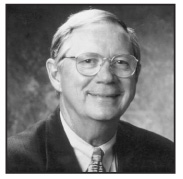 Born in Chattanooga, Tennessee, Clayton McWhorter graduated from Samford University in Birmingham with a degree in pharmacy and became a licensed pharmacist in Alabama. His ascent in healthcare management began as a hospital pharmacist. He moved through management ranks of the Hospital Corporation of America, eventually serving as president and chief operating officer. Mr. McWhorter was founding president and chairman of Health Trust until its merger with Columbia/HCA, and then served as its chairman.
In l996 he formed Clayton Associates, LLC, an entrepreneurial leadership investment firm. In honor of his family, he generously endowed the McWhorter School of Pharmacy at Samford University, and provided initial funding for Samford's Healthcare Ethics and Law Institute. Samford University has honored Mr. McWhorter as National Alumnus of the Year and awarded him the Doctor of Commerce, Honoris Causa. He has served in leadership positions with many university and professional organizations.