Carl August Grote, Sr., MD*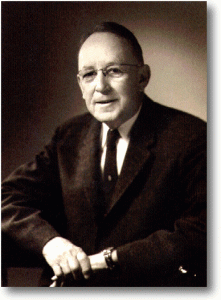 Dr. Grote will always be remembered as a pioneer in the public health field and a testament to the philosophy that nothing is more noble than caring for others. Born in Greensboro, Alabama, Dr. Grote received his medical degree from the University of Alabama in 1912. Two years later he became the first full-time county health officer in Walker County. On loan to Huntsville, he worked tirelessly to quell Huntsville's typhoid fever outbreak. Dr. Grote later became Huntsville's first full time health officer and worked at great risk with colleagues to alleviate the suffering from an outbreak of Spanish flu. The unit in Huntsville was regarded as a national model and was visited by many experts for observation.
In 1924, Dr. Grote entered private practice in Huntsville and spearheaded a drive that resulted in the construction of a stately fifty-bed hospital. As chairman of the project, he is today considered the patriarch of Huntsville Hospital. Both as Chairman of Trustees and as a physician, he helped bring many innovative employee and community health programs to the hospital. Dr. Grote served as president of the Medical Association of Alabama and was selected as the Outstanding Man of the Year by Huntsville's Chamber of Commerce.