Buris Raye Boshell, MD*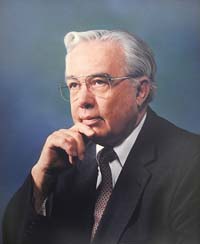 The career of Dr. Buris Boshell changed medical practice and the care of patients with diabetes across this nation. Born in rural Alabama, he graduated from Auburn in 1947 before attending the College of Veterinary Medicine. After two years Dr. Tinsley Harrison recruited him to the University of Alabama School of Medicine where he completed his first two years then went on to finish at Harvard. While chief resident at the Brigham Hospital he trained under the famed Endocrinologist Elliot Joslin. Dr. Boshell returned to Alabama to build a world-class diabetes research and treatment program at UAB. Understanding early on that diabetes was a complex, multi-disciplinary disorder, he envisioned a free standing building which would be a "one-stop shop" for diabetics. Through his leadership the Diabetes Hospital quickly became a reality with an outpatient clinic, a specialized inpatient unit for diabetics, and several floors devoted to diabetes related research projects. The Boshell Diabetes Education and Research Building at UAB is one of his many legacies.
Buris Boshell's dedication to excellence and the careers of others echoes across this state. At Auburn there is the Boshell Diabetes and Metabolic Diseases Research Program at the College of Veterinary Medicine, the Boshell Honors Endowed Scholarship, and the Boshell Diabetes Research Day. At UAB there is the Boshell Chair for Diabetes Research and Boshell Scholarship in Medicine. Dr. Buris Boshell gave us an incomparable legacy of dedicated patient care, research, and teaching.