Benjamin Monroe Carraway, MD*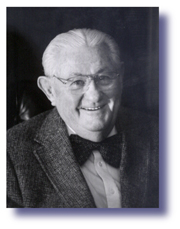 Dr. Benjamin M. Carraway left a tremendous legacy in the Alabama healthcare field. As a young surgeon, Dr. Carraway and his father pioneered research in the development of sodium pentothal anesthetizing agents. A man of boundless energy, Dr. Carraway's drive shaped the growth of Birmingham's Carraway Methodist Medical Center. During his 50 years at Carraway, he oversaw continuous expansion while ensuring that the hospital was at the forefront of leading technology. Under his leadership the hospital would equip some of the first intensive care units in Alabama; create one of the state's leading cardiology surgery programs; establish Carraway's Life Saver helicopter program; start the Kemp-Carraway Heart Institute for cardio-vascular research, and develop the Norwood Clinic.
His passionate support for medical education resulted in a fully accredited residency program in family medicine, internal medicine, and general surgery. Today, the hospital that Dr. Ben Carraway nurtured and loved has become the heart of the comprehensive health system with facilities and services throughout central and northwest Alabama.