James Somerville McLester, MD*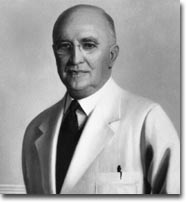 Dr. James Somerville McLester was born Tuscaloosa in 1877 and took his M.D. degree from the University of Virginia. He was Chief of Medicine at the School of Medicine in Tuscaloosa from 1920 until it was transferred to Birmingham in 1945. Dr. McLester was named the first Chairman of Medicine at the new Medical College of Alabama when it opened in 1945, and remained so until his retirement in l949. Dr. McLester was a Professor of Medicine for thirty years at the University of Alabama, and was a highly recognized leader during the transition from a two-year pre-clinical medical school to a four-year M.D. granting institution.
Dr. McLester served as President of the Medical Association of the State of Alabama and President of the American Medical Association. A noted regional and national lecturer, he conducted pioneer studies in nutrition, wrote numerous books and articles on the subject, and became Chairman of the Council on Foods and Nutrition of the AMA.